Hello my friends,
so I have to summarize a little bit our days in Rotorua. Okay, first of all, I will definitely remeber Rotorua as the city of rain. From the first day we arrived it rained most of all the days.Additionally the Campsite have had a poor equipment and nearly no community rooms. At least the showers were well cleaned and could be recommended. As I told I did have a bad cold with a cough and a running nose. Combined with the bad weather in Rotorua it didn't get any better during our stay. So what did we do then.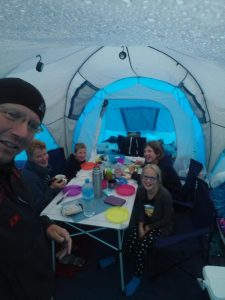 First we started to go to the Sky-Gondola and saved the day with the luge and a bit of Polynesian Spa afterwards. That was expensive but sitting in a hot pool was a great experience even in rain.
Then we went to Redwood Forest and to Whakarewarewa. Unfortunetaley the weather was really bad and we had no guiding tour. So we have visited the steaming Maori village but did not see much. Even the geysir was not the expected attraction. But Redwood Forest was fine.
During our stay we also made a visit to our friends from switzerland at Lake Taupo, not without giving Huka Falls a visit. We celebrated there the birthday of their youngest girl, but as I told before, in rain.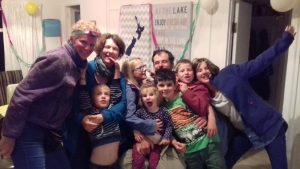 Then the weather seems to get better and we decided to do NZ most famous tourist attraction and go with Canopy tours by ziplines thru the woods. The day started with beautiful weather and we arrived at the forest and were in good temper.
But after the third platform and two trees going down, our tour guide explained its too dangerous and the event was cancelled. So we have had the experience of 2 ziplines and one rope brigde at no costs at all, because we were refunded the whole price. That was nice and we have had the time to explore Lake Rotorua at sunshine.
Our last day in Rotorua we decided to spent it not in Rotorua but in Taupo. So we made a daytrip with lots of exciting spots. First we went to Kerosine Creek, big thx to our Campsite manager who gave the hint, and took a bath in warm water. I'd recommend it to alll visitors. Afterwards we went with beautiful weather to Orakei Korako and spent nearly 2h by walking thru the really amazing terrain.
Then we went to Lake Taupo and have had a spectactular view over the lake. You could see even the glaciers from the mountains on the other side of the lake. Simply great. We took our dinner in a good restaurant directly at the waterfront and returned home afterwards. The next day we decided to move north again to Ohope.
And we will report what we did there shortly.