My dear english speaking friends, I will update you a little bit of our journey so far. We have been told, if we ever get to Gisborne, we should give Frank a call. Frank is a surf teacher and teaches beginners how to surf.
The weather in Gisborne was beautiful, so we called Frank. None of us has ever been on a surfboard. But that's so much fun, I never thought it would be that much of fun. In the end we surfed two whole days and were totally exhausted afterwards.
The third day we did some sightseeing in Gisborne and looked especially at those two different statues of James Cook. After that we drove along the coastal highway to Wairoa. Of course we stopped at the Rere Falls, because you have to do the Rock Slide.
In Wairoa we had a very nice Motel and Reuben was very helpful. Indeed he offered to hire some bikes for free, so that we could make a very nice ride along the River. Wairoa is really a nice town and it lies perfectly in the middle between Gisborne and Napier. From there we could also reach very easily the Lake Waikaremoana and the Tte Urewera National Park. We spent a whole day to visit different Lookouts and have had a picknick at the nice Lake.
After Wairoa we went to Hastings. Hastings Campsite was the most expensive one we ever had. So Hastings and Rotorua have really sucked on our budget. But the campsite was nice, and I even have had my own "garden fence".
From Hastings it is not far to Napier, so we spent two days in Napier. One with sightseeing, the harbour view from Bluff Hill is awesome. The other day, because it was raining a bit, we spent at the National Aquarium and at the Swimming Pool. We definitely can recommend both to future Visitors. The National Aquarium also holds an enclosure for Kiwis, so you can watch them.
In Hastings you should visit Te Mata. We did it and had a spectacular view over Hawkes Bay. And climbing three peaks makes a lot of fun.
Unfortunetaly our computer broke down in Hastings and we lost some photos due to this incident. And a lot of time. Buying a new computer and installing everything anew took me one whole day.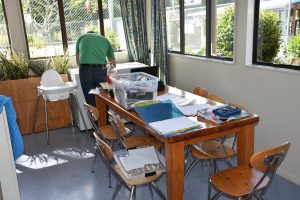 Then we went to Dannevirke and decided to take the Highway 50 instead of the main road. That was a good decision, because we love to watch the landscape on empty roads. In Dannevirke we picked a small campsite and for the first time, there was no open or big water nearby. What we did there, next time.