Ohope – Gisborne
From the the rainy city of Rotorua we went to Ohope. And we had the best weather ever. With a lot of sunshine for 4 days we really relaxed and enjoyed the sun and the beach. Two days we did nothing else than sitting at the beach, go for a swim and get roasted by the sun.
Then we decided to do another adventure. White Island!
A real volcano. Even it is the most expensive adventure we decide to do, we loved it. We started from Whakatane with a long boat trip over open water to the volcano. There we wandered around that island for about an hour and then we went back. But that's an experience you will never forget.
After that we had to decide whether we should go to Tauranga or not. We decided to do a daytrip to Mount Manganui and visit Tauranga afterwards. That was a wise decision. We went to Mt Manganui over Te Puke and had a short glance of the kiwi plantation there. The beach at Mt Manganui was amazing. We spent a long time there with the kids in the water with their boogie boards.
Afterwards we did some cultural experience and visited the Historic Village and did take a look at all the old buildings and what it might have looked like a hundred years ago.
We finally ended our visit with a very good dinner at Wharf St. Eagerly. They were so nice there and the meal was really good for an affordable price. We recommand that place to anyone, who goes to Tauranga.
Then we moved on from Ohope over Waihau Bay to the East Cape and said hello to the most easterly point on the North Island. Then again along the coast down to Gisborne.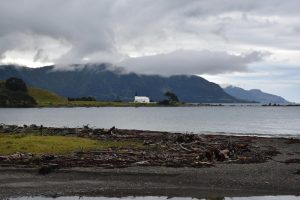 We have had two great accommodations, one at Waihau Bay, and one at Tokomaru Bay and each time we were the only ones there. Especially the Stranded Paradise was very interesting for us, because we did not have had a Backpacker Hotel before. It was worth the experience and the house and everything was very nice and clean. Unfortunately we did not have had the chance to see the sunrise over the ocean, because it was too cloudy.
After that we did some Bay-Watching and took the time to see at last 4 really nice Bays on the way down from the East Cape to Gisborne. A lot of people told us, why are you spending so much time driving? I tell them, if you ever go around the east coast, don't miss the part between Gisborne and the East Cape. Astonishing.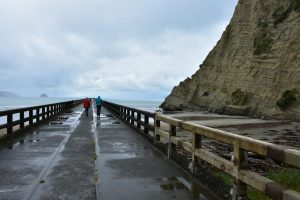 Now we ended up in Gisborne and that's another story to tell.