We covered in the last days a little bit of distance. From Piha Beach we went to Muriwai.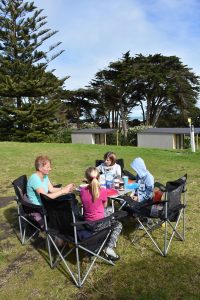 The campsite was very good as the council of Muriwai decided to demolish all the old shower and toilet buildings and build completely new restrooms and showers and everything else. The campsite has opened in Feb 2017 so everything was really new. Near to that campsite was a beautiful beach, where a lot of kite surfers could be seen. Although the sea is dangerous at that place. A few weeks ago a kite surfer lost his life at the beach.
My daughter did some wonderful photographs at the gannet colony.
The next morning after home-schooling a little bit, we went on to Matakohe. On our way thru Helensville we bought some necessary food and replenished our water supplies. Also we refilled our diesel tank. You would not believe how much diesel it takes when you drive such a heavy vehicle.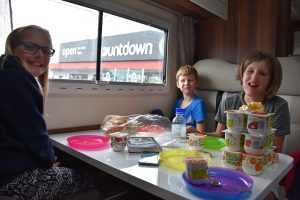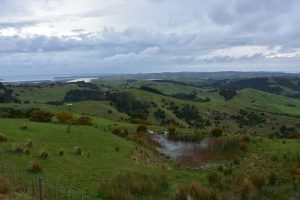 When we arrived in Matakohe in the evening, there was not much to do. So we simply used the kitchen there and watched a little bit of TV. The next morning we went to the Kauri museum, where we learned a lot about how Kauri trees have been part of the timber industry. We did take a look at the machinery and the techniques that were used to bring Kauri trees down the hills and how they were sawn into timber.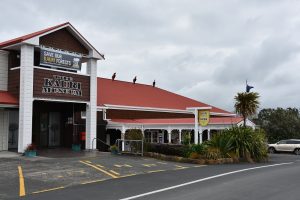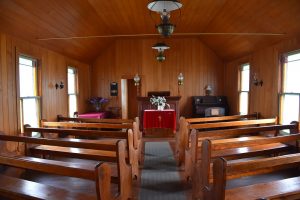 This excursion was our school for today and after that we moved on. Our plan was to take a glance at the biggest Kauri trees in NZ. Unfortunately the weather was not very good. So while we were driving from Matakohe over Dargaville to the Waipoua Forest we did have sometimes very poor sight. On the other hand the Highway 12 was beautiful to drive. In contrast to the Waitakere Forest you have really great plains with a lot of cattle farms around.
Totally different is the Waipoua Forest. I have never driven such sharp curves. And they last for about 24km. We went to the Visitor centre, which lies approx. 5min drives off the the main highway. From there we moved on to Tane Mahuta and their neighbours Four Sister and Tane Ngahere. It is very impressive to see such massive trees. I don't know if anywhere in the world are older trees than them.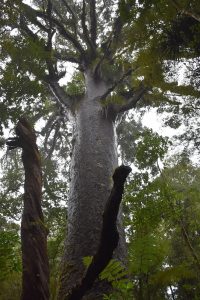 From there we went on to Opononi and did our overnight stay at the Beach Holiday park. Together with a glas of wine we celebrated the evening along the beach while our children were playing at the water with the great sand dune opposite to them.