This morning I woke up early and had beautiful sunlight. The whole parking space was covered in red morning light. Shortly after I took the pictures the light was gone. But May was up. Because all the others were still asleep we decided to have a hot chocolate at the diners across the street. The bar/restaurant was totally decorated in the style of the fifties. We had a beautiful dinner.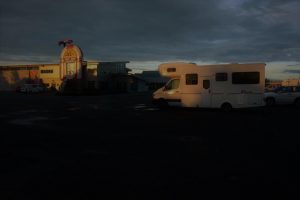 After the other woke up we have to store things away before we can proceed to the Waikato Museum in Hamilton. We have heard about a Eureka exhibition, that should be good and exciting for the kids.
The exhibition was about Archimedes and his inventions. Some things we have already seen somewhere else but altogether it was a definitely worth the trip.
Then we visited the exhibition by a New Zealand artists about prints and special art you can perform with printmaking.
In the cellar of the museum there was a second exhibition where the kids could try several different experiments. They loved it. We nearly spent one hour only there. We learned about electricity, magnetism, gravity, computer games, power consumption and so on.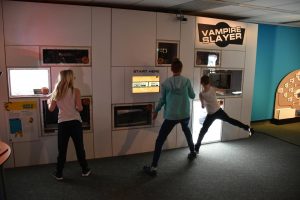 The second attraction for today are the Hamilton Botanical Gardens. We read about them in the internet but were not fully aware how amazing they are. You enter the garden and from there you can visit all the different types of gardens. There are gardens in indian, italian and english style. Or more popart gardens like the concept garden. Together with May and Luke we had very much fun in there.
At last we visited Murray and Sheryl at their house in Hamilton. We met this couple in October in Rotorua on a campsite. We had a nice chat then and decided if we ever come close to Hamilton we give them a ring, which we did. So we were having a late afternoon tea together and talked a lot. They told us about their family and we told our stories of New Zealand.
So it was a nice afternoon, before we head off to our final freedom Campsite in Paeriti. There we just parked, had lunch and went to bed.