This last weekend of the holidays we had to clean up a little bit, because of our vacation trip to the south-island. Then we prepared the food for the dinner. We made some very nice Kiwi salad, but it takes some time to do all the cutting.
Afterwards we met with friends and had a lovely BBQ together. May and Manuela do and did their horse riding at their place. It was a long and beautiful evening.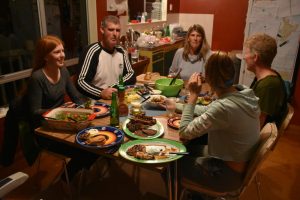 On sunday we had a very quiet time. That was very good in preparation for the first school day tomorrow after the two weeks off. Lets see what the new week will bring.