Monday:
May goes horse riding as every monday. In the afternoon she receives a packet from her auntie Suzy. Surprise, Surprise it is full of sweets. Sweet as!
Tuesday:
It's training day. May will take part in the Tryathlon in Palmerston North during the next week. We have been asked whether we will support the training group and certainly did. The went cycling around the village of Manakau. It was awesome to see, how they were all cycling together.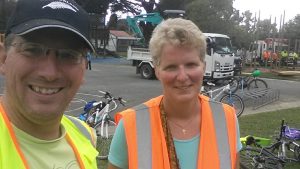 Wednesday:
In the morning I go to Paraparaumu to get my safety instructions from the kite surf trainer. Nothing very impressive. But I'm going to do Kite Surfing. Manuela has got her first horse riding lesson. Unfortunetaly she forgot to take photos.
Luke and Harrison finish their goal building work. The planned and executed it all themselves. Looks good, doesn't it?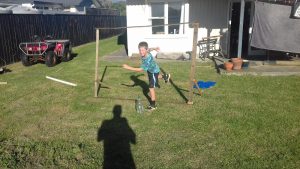 Thursday:
My first Kite Surfing Lesson. Yeah. I went to Waikanae, which is not far from us, and took my first real lesson. Leia is ill again, so Manuela stays at home. Therefor no real pictures doing kite surfing. But I managed to keep the kite up and did some Body dragging thru the water. What a fun.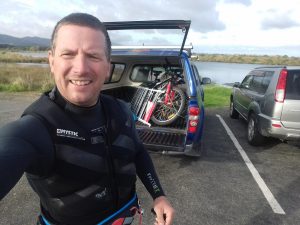 Friday:
We welcome our visitors. May has got a friend and so does Leia. Leia used her talent to do a photo session together with her friends.
In the evening Leia went to the Roller-Skating Club in Levin. Unfortunetaly she came back and her kneecap slipped sideways again. So back to crutches.
Saturday:
Because it is getting colder, Manuela buys a small heater for the children rooms
We do nothing more, except a game of Kanban. I do LOOSE and May wins the really, really complicated game. I guess although I've played this now more than 10 times, I always find new rules in the rulebook.
Sunday:
It is church time again. May and Luke are part of the service and having fun. Meanwhile Leia is doing some fabulous craft work. Afterwards we meet altogether at Snow's place and play UNO. Snow's cooking really smeels good. We conclude this week by watching the "Dein Song" final on the internet and went straight to bed afterwards.