So, now I complete the English travel description. We spent a beautiful time in Motueka. This is the last spot, before we're moving to our house in Waikawa Beach.
Therefor we decided to rest a little bit, after so many impressions from the country. The children were exhausted and at this excellent campsite we really enjoyed the stay. The kids had enough to play, the swimming pool was very good, they got other kids to play with. And we took the opportunity to visit the Abel Tasman Nationalpark.
One thing we definitely wanted to do is kayaking. So one day we spent on the kayak and visit some of the lonely beaches afterwards. That was amzing.
Another tour we took drove us to the Ngaru Caves, where we enjoyed walking underneath the surface. The guide was actually an descendant from one of the first cave guides.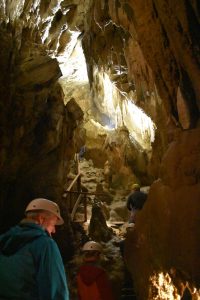 The last visit was to Pupu Springs, which is holy to the Maori culture. Although we had lot of clouds the walk was very nice and the water was as clear as I never seen anything before.
Besides those excursions we did not do very much, because we wanted to put our souls at rest. Then we left with a strange feeling in the belly Motueka for our final tour to Waikawa Beach.
There we found a very lovely house, which all of my family and myself loved directly from the start. It was more difficult to unpack the things in the house, than into a tent. But see for yourselfs:
It is now exactly one week ago, when we arrived here. The village is really quiet, around 50 permanet residents live here. Unfortunetaly not so many kids. But just yesterday we met a family WITH kids and now we're invited to a birthday party next corner. That's great.
So now we close the chapter traveling and open up a new chapter. We'll see what the future brings.